2017 Social Cabernet Franc
A consistently rich, expressive and structured varietal bottling, our 2017 Cabernet Franc from the South Okanagan Valley is bold and well-balanced. A gold medal winner at the 2019 Wine Align Awards.
Price: $25.95
PLUS: $0.10 Deposit | $2.60 PST | $1.30 GST
---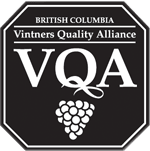 Winemakers Notes: We are proud to be awarded a Wine Align Gold Medal for our 2017 Cabernet Franc.
Vintage: 2017
Nose: Dark fruit, peppercorn, spice, blueberry
Palate: Strawberry, cranberry, peppercorn, vanilla bean
Pairing Suggestions: Chicken & veggie kabobs, pulled pork, dark chocolate
We are very proud of this award-winning Cabernet Franc which boasts bold notes of dark berry fruit, peppercorn and vanilla.