Our Award Winning BC Wines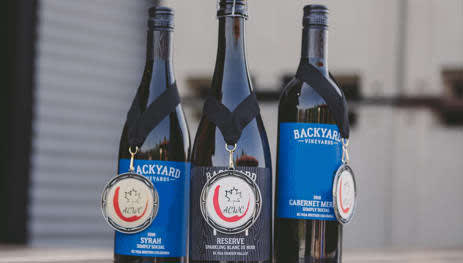 We're proud of our award-winning BC wines. Very proud.
As proud as we are, however, we understand that awards won in the past are, to some extent, history. So, our vision is to continue to produce even better wines, year over year.
Under the experienced vision of winemaker Liam Berti, we think this is absolutely achievable. We are committed and confident that this award winning trend will continue.
You know... the biggest value in winning awards from significant summits and competitions is not necessarily the award itself – although, hey, who doesn't like to win?
To us, the value is in the endorsement of our product quality. And, with that endorsement, we can be confident that you, our customers, will be more than satisfied with our wines – you will be thrilled.
Awards by Vintage
     Wine Align National Wine Awards 
      2020 Reserve Syrah Gold
      2020 Cabernet Merlot - Silver
      2020 Syrah - Silver
      2021 Reserve Viognier - Silver
      N/V Reserve Blanc de Noir - Bronze
      2022 Sauvignon Blanc - Bronze
      2020 Cabernet Sauvignon - Bronze
      2022 Gewürztraminer - Bronze
      2020 Reserve Cabernet Franc - Bronze
      2020 Cabernet Franc - Bronze
Backyard Vineyards has been producing award-winning BC wines for over 10 years. And there's a whole bunch more to come!