Back Porch Wine Club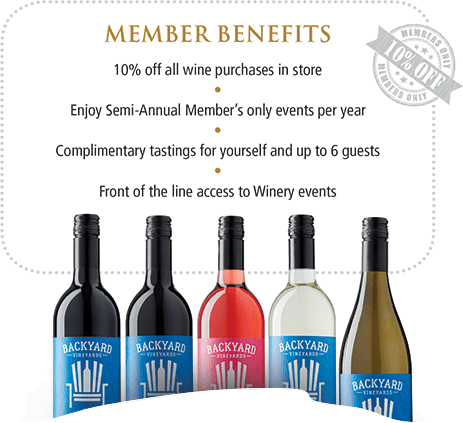 Membership in the Back Porch Wine Club is a great gift for yourself or a friend. If you love our BC wines, you'll love our club!
For us, it's all about lifestyle...
....good company, fun times and fantastic VQA wines to complement. Our goal is to provide a place where people can unwind with a glass of wine with friends and from time to time, meet new ones too.
Our hope is that at Backyard Vineyards you can do just that!
We invite you to experience even more of what we have to offer by becoming a member.
As Back Porch Wine Club Members, we have been visiting Backyard Vineyards once a month for over four years, sampling the great wines and enjoying the tasty charcuterie platter. The staff are very friendly and accommodating and create an excellent ambiance in the tasting room.
Refer a Friend Reward
Tell your friends! Tell your neighbours! We feel so strongly that you are going to love being a member of our wine club that we are offering you a reward for your kind words. Refer a friend and we'll gladly say thank you with a gift.
The Case Club
If you love our wines, you'll love our Case Club!
As a Case Club Member, you purchase 2 cases per year, customizing the selection of wines in each case to your personal preference.
• No membership fees
• We contact you to select the wines for your case
• You pay only for the cost of the wines  (avg. case $250-350)
• Exclusive 15% discount on the case cost
Delivery
Members are welcome to substitute free shipping in place of their 15% Case Club discount.
Winemaker's Selection
Enjoy a monthly package of Backyard Wines, hand picked by our Winemaker, Liam Berti, shipped right to your door each month.
Your Choice
Winemaker's Selection Red
2 bottles of red | $65/mo.
Winemaker's Selection White
2 bottles of white | $65/mo.
Winemaker's Selection Red & White
2 bottles, a perfect mix of red & white | $65/mo.
Each package includes Liam's personal wine pairings recommendations for each wine.
Go Local Pick-up rates are available starting at $50/month. Contact us in-store for more info.