2018 Nosey Neighbour White
Our 2018 Nosey Neighbour white is a light and refreshing BC wine blend bursting with notes of apple, lychee, orange zest and pear.
Price: $17.95
PLUS: $0.10 Deposit | $1.80 PST | $0.90 GST
---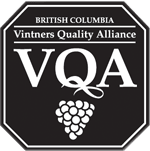 Winemakers Notes: A meticulous blend of 15% Chardonnay, 13% Pinot Gris, 12% Viognier, 11% Riesling, 10% Bacchus, 9% Madeleine Angevine and 31% Gewurztraminer assembled post-fermentation to form a seamless blend of aromatics, flavour, texture and mouthfeel. 
Vintage: 2018
Nose: Baked apple, citrus, honey
Palate: Peach, green apple, pear, orange zest
Pairing Suggestions: Mild cheeses, vegetable dishes, fish & chips
Our Nosey Neighbour White is the perfect '7 day a week' white, with invigorating notes of orchard fruits and citrus.