2018 Reserve Viognier
This vibrant BC Viognier is bursting with aromas of fresh cut citrus, honeysuckle and a hint of orange blossom. 

Regular Price: $42.00
Sale Price: $30.00
PLUS: $0.10 Deposit | $3.00 PST | $1.50 GST
---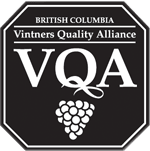 Winemakers Notes: Crafted from 100% Viognier grapes, 25% of which were fermented in new French oak barrels, this wine is fruit-forward, refreshing and versatile.
Vintage: 2018
Nose: Tropical fruit, citrus & floral notes
Palate: Peach, orange blossom, honeysuckle, tangerine, vanilla
Pairing Suggestions: Creamy curries, turkey burgers, quinoa salad
Fans of Viognier will revel in this wine, which is full of energy and vibrancy. It's bursting with sophisticated notes of fresh peach, orange blossom, & exotic fruit.