2019 Reserve Viognier
This vibrant BC Viognier is bursting with aromas of fresh cut citrus, and a hint of tangerine. 

Regular Price: $45.00
PLUS: $0.10 Deposit | $4.50 PST | $2.25 GST
---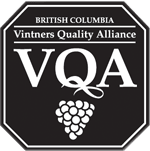 Winemakers Notes: Fermented entirely in neutral French oak barrels and aged on the lees for 9 months before final blending and bottling. A strong vintage for Viognier's aromatic intensity and palate texture.
Vintage: 2019
Nose: Stone and tropical fruits abound with added layers of tangerine, rose petal and bergamot. 
Palate: A soft attack that develops into an oily, viscous mid-palate with an added layer of bitter citrus on the finish. 
Pairing Suggestions: Rich butter-poached fish or root vegetables with exotic spices
Residual Sugar: 1.6 g/l

Fans of Viognier will revel in this wine, which is full of energy and vibrancy. It's bursting with sophisticated notes of fresh peach, orange blossom, & exotic fruit.