2020 Cabernet Merlot
Our 2020 Cabernet Merlot is an opulent, rich blend fusing the best that the Okanagan's Bordeaux varietals have to offer. 
Price: $30.00
PLUS: $0.10 Deposit | $3.00 PST | $1.50 GST
---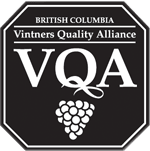 Winemakers Notes: 12 months of barrel ageing (some new oak). Bold red blend with a smooth mouthfeel and subtle tannic backbone that make this wine ultimately food friendly.
Vintage: 2020
Nose: Ripe cherry, raspberry, spice
Palate: Red berry medley, plum, black currant, smokey 
Pairing Suggestions: Short Ribs, wood-fired pizza, spaghetti & meatballs
Residual Sugar: 2.4 g/l


Regal notes of black cherry, sweet tobacco and subtle pepper make this stunning Cabernet Merlot one of my favourite 'big' wines.