Blanc de Noir Brut
This Blanc de Noir Brut is Fraser Valley from beginning-to-end and handmade the hard way ("Méthode Traditionelle") from 100% estate-grown Pinot Noir grapes.
Borrowing from the Methode Champenoise, the Blanc de Noir Brut offers delicate hints of apples on the nose, while the fine streams of bubbles in the glass are the hallmark of a naturally well-made sparkler. Ideal for all occasions.
Price: $45.00
PLUS: $0.10 Deposit | $4.50 PST | $2.25 GST
---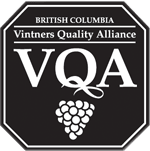 Winemakers Notes: Fraser Valley estate grown Pinot Noir, methode traditionelle
Nose: Brioche, biscuit, apple
Palate: Orchard fruit, mineral, light spice 
Pairing Suggestions: Celebrations
Residual Sugar: 7.4 g/l
I love this wine for it's effervescent notes of grapefruit, lemon zest, melon and pineapple.