2018 Patio Chardonnay | 6 Pack | Harvest Sale
Intense, flavourful and well-balanced, this Chardonnay is medium bodied with aromas and flavours of orchard fruit, orange zest and honey.
6 Pack Sale Price: $77.70 

(reg. 131.70) - 40% Savings 
PLUS: $.60 Deposit | $5.27 GST | $10.54 PST
***Curbside Pick Up Only***
---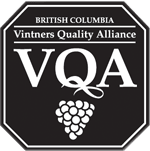 Winemakers Notes: This versatile Chardonnay is smooth and well-rounded and the perfect pairing to your everyday.
Vintage: 2018
Nose: Apple, pear, honeydew melon
Palate: Orchard fruit medley, pineapple, orange zest, honey
Pairing Suggestions: Seafood dishes, chicken alfredo, vegetable pizza
This is a wonderful BC Chardonnay with delectable notes of crisp apple and mandarin orange. One of my 'every day' favourites.