Porch Wine (Port Style)
Our Porch Wine is a fortified port-style wine – a BC homage to the great dessert reds of Portugal.
Price: $25.95
PLUS: $0.10 Deposit | $2.60 PST | $1.30 GST
---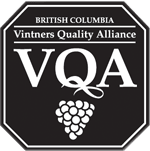 Winemakers Notes: Aged oxidatively in neutral oak to promote aromas of spices, berries and pomegranates
Nose: Spice, mint, ripe fruit
Palate: Blueberries, figs, pomegranate, cranberry
Pairing Suggestions: Cheese platter, chocolate cake
This beautiful port-style wine reminds me of Black Forest cake in a glass. The lingering smooth finish stays makes the experience even more luscious.