2019 Social Bacchus
Named after the god of grape and wine for right reason, this exuberant white wine encapsulates aromatic complexity and a crisp, food-friendly palate.
Price: $22.95
PLUS: $0.10 Deposit | $2.30 GST | $1.15 PST
---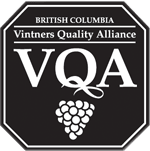 Winemakers Notes: Splendid notes of tropical fruit flavours followed by a wonderful and pronounced mineral character.
Vintage: 2019
Nose: Floral notes, Lime, Clementine 
Palate: Peach, Kiwi, Passion Fruit, Guava, Mango
Pairing Suggestions: Seafood, Pad Thai, Fish & Chips
The crisp and refreshing notes of Bartlett pear and zesty citrus in our 2018 Bacchus give a strength of character preferred by certain wine lovers.
$22.95
Oh, dear! This item is currently out of stock or sold out. Please contact us and we'll see how we can help.