2021 Social Rosé
Dry, fresh and fruit-forward, Backyard Vineyards' Rosé has beautiful flavours of grapefruit and pomegranate.
Price: $25.00
PLUS: $0.10 Deposit | $2.50 PST | $1.25 GST
---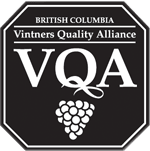 Winemakers Notes: 68% Zweigelt, 16% Gamay, 13% Merlot, 3% Pinot Noir
Partial carbonic maceration, the rest of the fruit was foot-stomped and macerated on the skins for 24 hours before being pressed. All fruit picked at lower maturity and lower potential alcohol for a purpose-made rose from beginning to end.
Vintage: 2021
Nose: The use of carbonic maceration on a portion of the wine shows notes of bubble-gum, watermelon and crushed strawberry
Palate: the palate remains fresh and lively with a creamy texture and flavours of grapefruit, sour cherry and pomegranate.
Pairing Suggestions: Fresh summer salad or poached salmon
Residual Sugar: 1.0 g/l

This Rosé has always been a favourite of mine. It's easy to drink and simply delicious with notes of field strawberry, raspberry and blackberries.