2018 Backyard Pinot Gris | 6 Bottles Pack | Sale
Our 2018 Pinot Gris was hand-picked from some of the best sources of the Okanagan Valley's most-planted white varietal, showcasing depth and character on both the nose and palate.
6 Pack SALE $105.36 

(reg. $131.70) - 20% savings 
PLUS: $.60 Deposit | $5.27 GST | $10.54 PST
**Available for Curbside pick up only***
---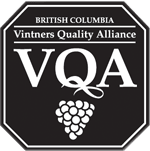 Winemakers Notes: Fermented in tank at low temperatures, minor lees contact to build mouthfeel and texture.
Vintage: 2018
Nose: Melon, apple, pear, ginger
Palate: Papaya, peach, honeydew, citrus
Pairing Suggestions: Chicken or fish dishes, mixed greens, mild cheeses
I use the word 'lavish' to describe the distinct tropical notes of papaya, nectarine and guava in our 2018 Pinot Gris. Delicious!