2018 Noisy Neighbour White - CELLAR BLOW OUT!
Our 2018 Noisy Neighbour white is a light and refreshing BC wine blend bursting with notes of apple, lychee, orange zest and pear.
Cellar Blow Out Price: $13.00
PLUS: $0.10 Deposit | $1.30 PST | $0.65 GST

CURBSIDE PICKUP ONLY
---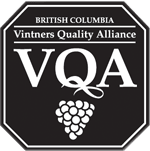 Winemakers Notes: A meticulous blend of 15% Chardonnay, 13% Pinot Gris, 12% Viognier, 11% Riesling, 10% Bacchus, 9% Madeleine Angevine and 31% Gewurztraminer assembled post-fermentation to form a seamless blend of aromatics, flavour, texture and mouthfeel. 
Vintage: 2018
Nose: Baked apple, citrus, honey
Palate: Peach, green apple, pear, orange zest
Pairing Suggestions: Mild cheeses, vegetable dishes, fish & chips
$13.00
Oh, dear! This item is currently out of stock or sold out. Please contact us and we'll see how we can help.