2019 Social Chardonnay
Intense, flavourful and well-balanced, this Chardonnay is medium bodied with aromas and flavours of orchard fruit, orange zest and honey.
Price: $25.00
PLUS: $0.10 Deposit | $2.50 PST | $1.25 GST
---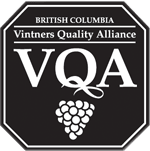 Winemakers Notes: From a less-ripe, cooler vintage, the 2019 Chardonnay was stainless steel fermented and aged with extended time spent on its lees for aromatic complexity and palate texture. 
Vintage: 2019
Nose: yellow apple, white peach, cantaloupe, Honeydew melon, with a saline, mineral, cave-like character thanks to the unique vintage characteristics. 
Palate: medium-bodied with a fleshy mid-palate and bone dry, zippy finish.  
Pairing Suggestions: poached white fish, creamy cheese, pâté, risotto, chicken with sautéed wild mushrooms 
Residual Sugar: 1.2 g/l

This is a wonderful BC Chardonnay with delectable notes of crisp apple and mandarin orange. One of my 'every day' favourites.